GVM Upgrade Solutions for Volkswagen Amarok 2011-On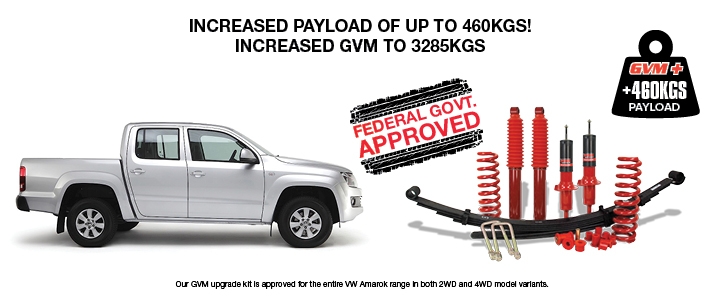 Only the best GVM upgrade packages and more GVM+ kits in Australia for your VW Amarok
If you are looking for VW Amarok GVM upgrade kits that are specifically designed to cater for and improve the handling of your vehicle, trust the Pedders' range. Our GVM upgrade solutions are equipped with various heavy duty parts like shock absorbers, springs, U/bolts, drive shaft bolts and much more.
"Increase the payload of your VW Amarok 2011 by 460kgs with a Pedders GVM Solutions Kit"
Each of the suspension upgrade kits we provide are designed to make the overall GVM of your VW Amarok vastly better. Offering all the necessary parts to do so, plus many optional extras for those who want to truly personalise the way their vehicle handles, you can pick up your own GVM upgrade solution from one of our numerous outlets throughout Australia.
VW Amarok 2H Series certified GVM rating of 3285kgs with Pedders. Using the links below, you can find out more about these certified kits, and how they can radically enhance your vehicles payload. Click on the PDF and discover further information on Pedders GVM upgrades for your VW Amarok.
Pedders Volkswagen Amarok 2011 GVM+ kits for sale for the VW Amarok range in both 2WD & 4WD model variants provide an increased payload of up to 460kgs!
Pedders also has GVM upgrade kits for Ford Ranger, Nissan Navara D40, Nissan Navara GU Patrol, Nissan Navara D23-on, Toyota Landcruiser 76 Series 99-On, Toyota Landcruiser 78/79 Series 99-On, Toyota Landcruiser 200 series 09/2007, Toyota Hilux GUN123R/GUN122R/GGN120R/TGN121R 2WD, Toyota Hilux GGN25R/KUN26R 4WD, Toyota Hilux Series GGN125R/GUN125R/GUN126R 4WD, Toyota HiAce LWB, Toyota HiAce SLWB, Mitsubishi Triton, Holden Colorado, Holden Colorado RG2, Isuzu D-Max and Mazda BT50 models. Find out more about our complete range today by clicking on the relevant link, or visit your local Pedders outlet.
Click pdf below to download the Pedders GVM Solutions Kit Flyer:
Browse Kits by Make & Model

Pedder GVM upgrade kits are specifically tailored to enhence a vehicle's GVM based on their individual specifications. Below is a list of popular makes and models that SAS and Pedders stock kits for click on the relevant link to discover what parts you can get to improve you vehicle.
---