Toyota HiAce SLWB – Super Long Wheel Base Models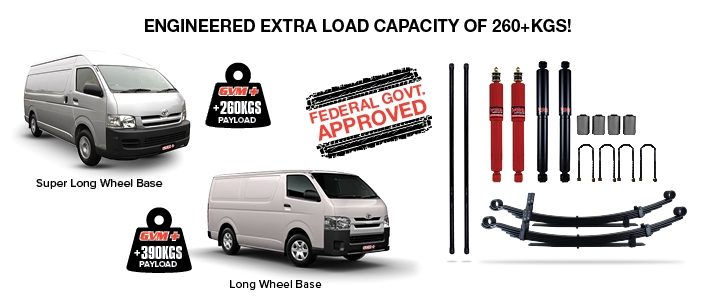 GVM Suspension Upgrade Kit For Toyota HiAce To Suit: SLWB – Super Long Wheel Base Models
ENGINEERED EXTRA LOAD CAPACITY OF 260+KGS!
If your Toyota HiAce carries loads for a living or if you are serious about what you take with you on your next journey then Pedders has the answer for you!
When your Toyota HiAce is fully loaded for the journey ahead or if you're carrying the tools of your work trade, chances are that your HiAce may be overloaded beyond its GVM and you may not even know it. Common items such as tools, tool boxes, cargo and even your passengers all combine to increase the overall gross vehicle mass. Every vehicle on our roads today has an official legally allocated gross vehicle mass rating (GVM). The GVM rating is a legal weight figure (in kg's) that results in the total maximum allowable weight of a vehicle when fully loaded. It's essentially the maximum legal weight, that you can safely drive at for that particular vehicle.
Pedders now offer a GVM+ upgrade solution for selected HiAce models to assist in compliance for GVM ratings. The reason for this solution is for the following requirements: O.H.&S. vehicle insurance, warranty issues and being road legal. Through exhaustive and detailed testing, the Pedders GVM+ Upgrade Kits have been approved by the Federal Department of Infrastructure and Transport.
Toyota HiAce SERIES GVM+ UPGRADE Solution From Pedders
• Support network of over 120 outlets Australia wide.
• All components installed as part of a Pedders GVM upgrade package are backed by a Pedders 2 Year/40,000kms Nationwide Warranty.
• Toyota HiAce SLWB series certified GVM + rating of 3460kgs which offers up to 260kgs of increased payload.
• The GVM + upgrade kit is an Ideal choice for those carrying additional payload who need to comply with federal GVM laws.
• Great for the serious tradie who carrys loads for a living with regular items loaded on the van such as roof racks, tools and tool boxes.
Pedders also has GVM upgrade kits for Ford Ranger, Nissan Navara D40, Nissan Navara GU Patrol, Nissan Navara D23-on, Toyota Landcruiser 76 Series 99-On, Toyota Landcruiser 78/79 Series 99-On, Toyota Landcruiser 200 series 09/2007, Toyota Hilux GUN123R/GUN122R/GGN120R/TGN121R 2WD, Toyota Hilux GGN25R/KUN26R 4WD, Toyota Hilux Series GGN125R/GUN125R/GUN126R 4WD, Toyota HiAce LWB, Toyota HiAce SLWB, Mitsubishi Triton, Holden Colorado, Holden Colorado RG2, VW Amarok and Mazda BT50 models. Find out more about our complete range today by clicking on the relevant link, or visit your local Pedders outlet.
Click pdf below to download the Pedders GVM Solutions Kit Flyer:
Browse Kits by Make & Model

Pedder GVM upgrade kits are specifically tailored to enhence a vehicle's GVM based on their individual specifications. Below is a list of popular makes and models that SAS and Pedders stock kits for click on the relevant link to discover what parts you can get to improve you vehicle.
---