Holden GVM Upgrade Kit Holden Colorado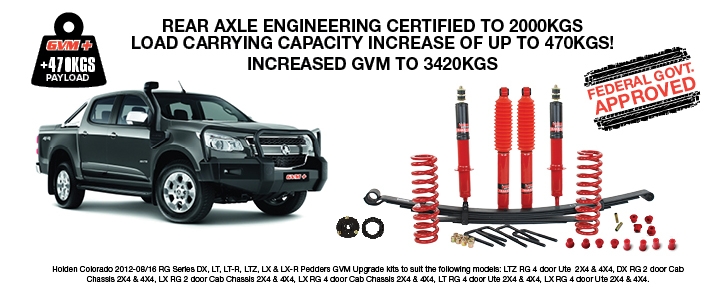 Pedders offer GVM suspension-kits for the complete range of Holden Colorado RG models (from 2012 onwards) in order to equip your Colorado with the very best in upgraded suspension kits.
Our Pedders GVM solutions kit for the Holden Colorado RG series is supplied and installed with all the necessary components to enhance your vehicles driving performance. We also offer a great range of optional extras with everything from tow bars, suspension bushes, rear airbags, CV shafts, brake parts and more.
• Pedders GVM Upgrade Suspension Kits for sale to suit the Holden Colorado RG are:
• Great for the serious off road driver fitted with bull bars, winches, recovery equipment and underbody protection looking for compliance to the federal GVM laws.
• All components installed as part of a Pedders GVM upgrade package are backed by a Pedders 2 Year/40,000kms Nationwide Warranty.
• The ideal choice for towing caravans, horse floats, camper and general trailers who need that load carrying capacity.
Holden Colorado RG series GVM Ratings:
The Pedders GVM+ Rating = 3420kgs (across all models) with an additional increase in payload of 470Kgs.
Features and Benefits:
• The Pedders Suspension Kit for Holden Colorado 2012 onwards model totally transforms the driving characteristics of the vehicle for the better. Particularly in loaded situations whereby the vehicle is used as a day to day work vehicle that carries heavy loads.
• When fitted to the vehicle the steering response is greatly improved. The vehicle feels more stable under load and offers a more direct driving feel.
• Suspension is leveled when under load. The Pedders GVM lift kit virtually eliminates vehicle sag and evens out the load on each corner of the vehicle which is better for the suspension's longevity.
• Passenger comfort is increased with the use for the heavy duty components included in the GVM kit. This means that you and your passengers won't get bumped around whilst driving.

Holden Colorado 2012-On RG Series DX, LT, LT-R, LTZ, LX & LX-R Pedders GVM Upgrade kits to suit the following models: LTZ RG 4 door Ute 2X4 & 4X4, DX RG 2 door Cab Chassis 2X4 & 4X4, LX RG 2 door Cab Chassis 2X4 & 4X4, LX RG 4 door Cab Chassis 2X4 & 4X4, LT RG 4 door Ute 2X4 & 4X4, LX RG 4 door Ute 2X4 & 4X4.
Pedders also has GVM upgrade kits for Ford Ranger, Nissan Navara D40, Nissan Navara GU Patrol, Nissan Navara D23-on, Toyota Landcruiser 76 Series 99-On, Toyota Landcruiser 78/79 Series 99-On, Toyota Landcruiser 200 series 09/2007, Toyota Hilux GUN123R/GUN122R/GGN120R/TGN121R 2WD, Toyota Hilux GGN25R/KUN26R 4WD, Toyota Hilux Series GGN125R/GUN125R/GUN126R 4WD, Toyota HiAce LWB, Toyota HiAce SLWB, Mitsubishi Triton, Holden Colorado RG2, Isuzu D-Max , VW Amarok and Mazda BT50 models. Find out more about our complete range today by clicking on the relevant link, or visit your local Pedders outlet.
Click pdf below to download the Pedders GVM Solutions Kit Flyer:
Browse Kits by Make & Model

Pedder GVM upgrade kits are specifically tailored to enhence a vehicle's GVM based on their individual specifications. Below is a list of popular makes and models that SAS and Pedders stock kits for click on the relevant link to discover what parts you can get to improve you vehicle.
---