Holden Colorado RG2 Series 2WD/4WD LS/LT/LTZ/Z71 GVM+ Upgrade Kit From Pedders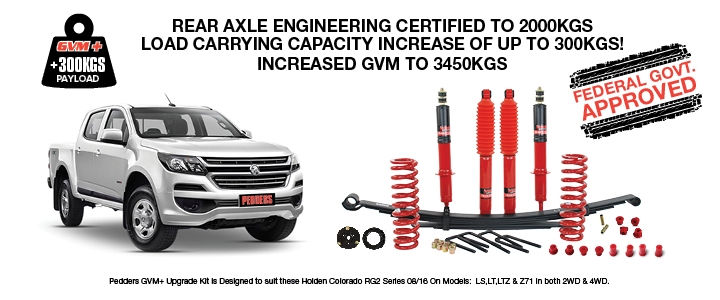 Increase GVM & Payload With A Certified GVM+ Upgrade Kit From Pedders!
If your Holden Colorado RG2carries loads for a living or if you are serious about what you take with you on your next journey then Pedders has the answer for you!
Pedders now offer a GVM+ Upgrade Solution for selected Hilux models to assist in compliance for GVM ratings. The reason for this solution is for the following requirements: O.H.&S. vehicle insurance, warranty issues and being road legal. Through exhaustive and detailed testing, the Pedders GVM+ Upgrade Kits have been approved by the Federal Department of Infrastructure and Transport.
Holden Colorado RG2 Series 2WD/4WD LS/LT/LTZ/Z71 GVM+ Upgrade Kit From Pedders:
• Support network of over 120 outlets Australia wide.
• All components installed as part of a Pedders GVM+ upgrade package are backed by a Pedders 2 Year/40,000kms Nationwide Warranty.
• Pedders Holden Colorado RG2 series certified GVM+ kit offers a rating of 3450kgs which is up to 300kgs of increased payload.
• The GVM + upgrade kit is an Ideal choice for those towing caravans, horse floats, camper and general trailers who need to comply with federal GVM laws.
• Great for the serious tradieute fitted with bull bars, accessories, tools and /or other work related equipment.

Pedders also has GVM upgrade kits for Ford Ranger, Nissan Navara D40, Nissan Navara GU Patrol, Nissan Navara D23-on, Toyota Landcruiser 76 Series 99-On, Toyota Landcruiser 78/79 Series 99-On, Toyota Landcruiser 200 series 09/2007, Toyota Hilux GUN123R/GUN122R/GGN120R/TGN121R 2WD, Toyota Hilux GGN25R/KUN26R 4WD, Toyota Hilux Series GGN125R/GUN125R/GUN126R 4WD, Toyota HiAce LWB, Toyota HiAce SLWB, Mitsubishi Triton, Holden Colorado RG2, Isuzu D-Max , VW Amarok and Mazda BT50 models. Find out more about our complete range today by clicking on the relevant link, or visit your local Pedders outlet.
Model Compatibility:
Designed to suit: Holden Colorado RG2 Series 08/16 On Models: 2WD/4WD LS/LT/LTZ/Z71
Pedders GVM+ Upgrade Solutions Flyer - Holden Colorado RG2 Series 2WD/4WD LS/LT/LTZ/Z71
Click pdf below to download the Pedders GVM Solutions Kit Flyer:
Browse Kits by Make & Model

Pedder GVM upgrade kits are specifically tailored to enhence a vehicle's GVM based on their individual specifications. Below is a list of popular makes and models that SAS and Pedders stock kits for click on the relevant link to discover what parts you can get to improve you vehicle.
---